SAP HANA adopt technologies, including advanced data compressed, column store and in-memory computing to provide enterprises a blending transactional and analytic platform with flexible and real time data processing capabilities under heavy workload environment.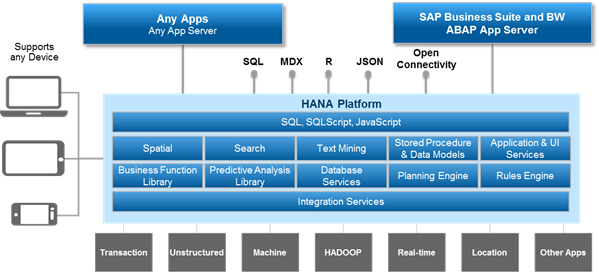 The advantages of using SAP HANA
Massive Speed:

SAP and Intel tested the scan speed of an SAP HANA database across a variety of Intel CPU processors. These tests results showed 3.19 billion symbol scans per second per core.

Radical Efficiency:

An SAP application development team ran a simulation of customer data with a 100 million-line financial accounting data set. The result showed the overall data footprint was reduced by 37 times.

Lower Cost:

Forrester estimated that if customers migrate to SAP Business Warehouse .in year one and SAP ERP in second year, and then start using the SAP HANA platform for custom application development in the third year. Then it can achieve a 37% cost savings over a span of 4 years

Flexibility:

SAP HANA is a powerful Big Data analytics platform, with a great ability of rapidly loading and analyzing multiple data types. Users can even load non-traditional unstructured sources into SAP HANA for a complete view of the business.

Multiple choices:

SAP HANA is available on-premise, in the cloud, or in a hybrid environment. Its cloud offerings range from basic, entry-level instances to enterprise-class managed cloud offerings suitable for running ERP and business-critical applications.

Open platform:

SAP HANA is an open platform, it can cooperate with thousands of third-party applications on hardware from nine industry-leading partners. Its cloud products are provided by external hosting and management partners from three continents.

Extreme Scale:

By SAP HANA platform and SAP IQ, SAP and its partners set a new record for the world's largest data warehouse. The data warehouse is 12.1 PB of 50% structured and 50% unstructured data, which is four times larger than the prior record.
Product Capabilities:
High-performance computing:

SAP HANA integrates innovations of the latest hardware and software to upgrade the performance of all applications

Overall data processing:

SAP HANA embeds multiple data processing engines and predictive models to maximize value of Big Data and the Internet of Things (IoT).

OLAP and OLTP support:

SAP HANA convergence OLAP(On-Line Analytical Processing) and OLTP(On-Line Transaction Processing), therefore enterprises can transact and analyze on the same system.

Administration and security:

Monitoring system health and providing network security are the most important tasks for system administrators. SAP HANA embed these two functions into its platform.

Integration services:

All of the enterprises' data sources can be integrated into SAP HANA to replenish SAP HANA applications or perform further analyzing.
Technical Capabilities:
Open environment:

SAP HANA supports JDBC/ODBC standard and RESTFul Web Service to assist business build applications that can be easily integrated with the old systems they used.

Componentized data integration:

SAP HANA makes the modularization data integration came true to allow enterprise maximum flexibility and decrease TCO.

Efficient system management:

By the help of SAP HANA, enterprise can integrate tools for development, administration, and monitoring to manage systems more efficiently.

Data center Readiness:

Data Center Readiness is a quality control functions for monitoring SAP HANA's each components and how they work together. It ultimately helps enterprise maintains and operates SAP HANA in the Data Center.
PlusCircle 's SAP HANA service ability:
2013 Certified with Support Associate – SAP HANA by SAP.

Since 2014, cooperate with SAP to perform HANA POC(Proof of concept) successfully for several times

2016 Successfully built application test of Data Core Storage for HANA HA+DR Solution.

2016 Successfully migrated the database to SAP HANA for many customers.
PlusCircle's SAP HANA service item.
S/4 HANA implementation or migration

ECC on HANA implementation or migration

ECC + S/4 HANA implementation or migration

BI(BO and/or BW) on HANA implementation or migration

HANA maintenance and administration

HANA ABAP/Java migration or improvement

HANA HA and DR implementation